Beverages: SUPPLIES & EQUIPMENT
OUR SUPPLY AND EQUIPMENT INVENTORY
Our inventory of equipment has everything you need, and if we don't have it, we can get it for you! We can service all your soda and drink needs.
---
ICE DISPENSERS
---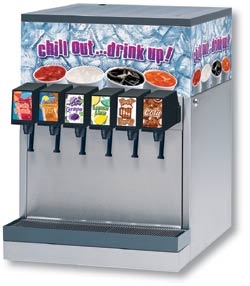 Counter Electric
6 Valve
30h x 20w x 24d
Slimline Up to 6 Valves Available
---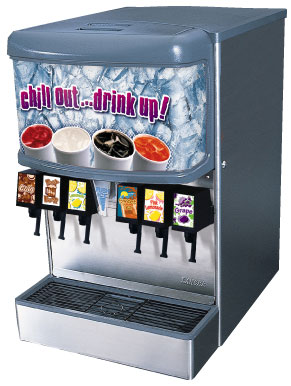 Ice Beverage Combo
6 Valve
38h x 22w x 31d
With Ice Dispenser
---
Free Standing Unit
5, 6, 8 Valve Available in 2 Sizes
115v/24 vac
53h x 24w x 25d
Holds 100 lbs of Ice
---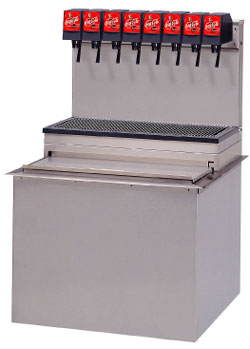 Drop In Unit
6, 8 Valve Available in 2 Sizes
115v/24vac
53H x 24W x 25D
Weight 310 lbs
Holds 100 lbs of Ice
POST MIX JUICE DISPENSERS
---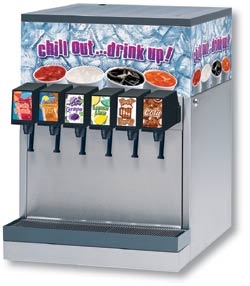 Quest 4000
12 drinks per Minute
30 h x 15 w x 25 d
115v/ 60h
PDF BROCHURE
ICE / COCKTAIL STATION
---
Various Sizes
All varieties and sizes are available
and are NSF approved
TEA URNS
---
Various Sizes
Connects to our ½ gallon jug
hand-mixed
7:1 concentrate
Dimensions: 9 ½" diameter x 26 ½" height
Weight: 16 lbs.
Eliminates brewing fresh tea, wasting unused product, brewing and cleaning time
BAR GUN
---
Flex Hose Post Mix Bar Gun
Up To 8 Button Combo
Juice Selection
Fast, Convenient, Reliable,
and easy to use.
Wunderbar has defined the standards for flow rates, consistent brix ratios and correct mixture!
PDF BROCHURE
JUICY WHIP – MTM20
---
Two Flavor
width 8 3/4″
depth 13 1/4″
height 26″
JUICY WHIP / MTM40
---
Four Flavor
width 17 1/4″
depth 13 1/4″
height 26″
FROZEN MIXER
---
Cecilware Granita Dispensers
3 – 2.5 Gal.
Frigo Granita Magnetic Drive System
Model BC-3-UL
.5 HP
115v NHT
4/30 amp
Other Models Available
BLENDING STATION
---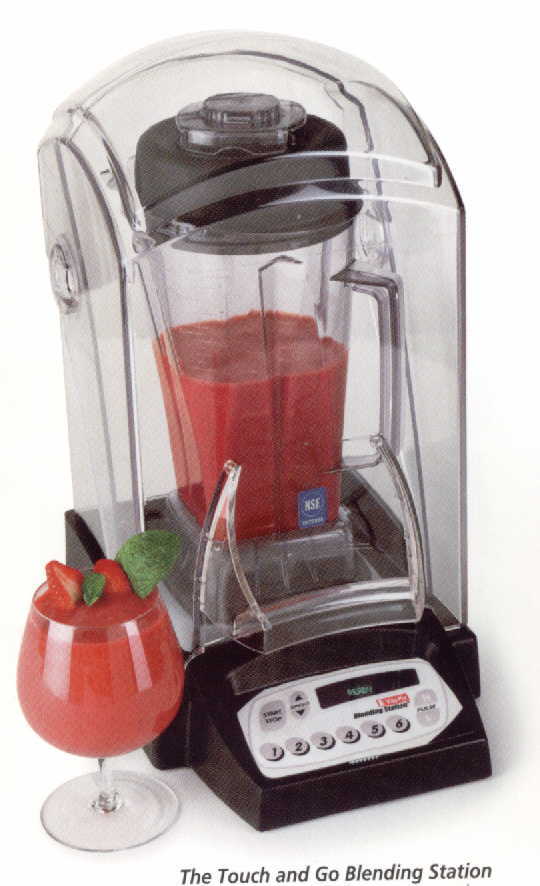 Vita-Mix Blending Station
The On-Counter Blending Station® MP, Maximum Performance Blender offers six different programs allowing you to blend any kind of drink consistently at the touch of a button.
With Extra Horsepower, the maximum performance container and enhanced blade design you can handle thicker ingredients easily and reduce processing time by one-third.
ICE MACHINE
---
Ice Machines / Various
• Up to 650 lbs (295 kgs) Daily Ice Production
• Only 30″ (76.2 cm) Wide
• Patented CVD Technology™
• Professional G
• 115/60/1 Electrical is Standard, CVD Condensing Unit is 208-230/60/1
• Stainless Steel Exterior with the Fit and Finish of an Appliance
• Rugged, Corrosion-free
• Base Patented Cleaning and Sanitizing Technology
• R-404A CFC-free Refrigerant
• QuietQube® Remote System consists of a remote condensing unit, refrigerant lines, ice machine, and ice storage unit- either bin or dispenser. All ordered separately.
WATER FILTRATION
---
Beverage / Water / Ice
Quality water filters for your soda and juice systems, as well as for your ice machines to enhance your beverage products.
---
WE ALSO SUPPLY YOUR GAS NEEDS
Beer gas, soda gas, custom blends and all the service that comes along with it.
CHECK OUT ALL OF OUR GASSES
Location
151 SW Shannon Ave
Melbourne FL 32904
---
Call
Emergency Service Available 24/7
Hours
Monday-Friday
8:30 am -5 pm
---
Email